Commercial Locksmith services: (714)500-7072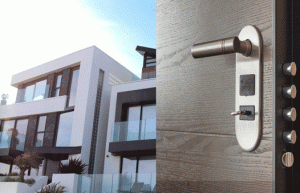 ABM Locksmith is your go-to place for exceptional commercial locksmith services. Our professionals are experienced and well-trained providing reliable and effective services. From commercial building lockouts, commercial lock change, commercial lock repair, Commercial Key replacement to opening and unlocking cabinet files, we are the right professionals for the job. Additionally, our services are quick and local every time.
Commercial Lock Change Service
A Commercial Lock change is essential every time you feel the integrity of your commercial building lock has been compromised. Maybe you lost your commercial building key and you don't know who got a hold of it. You will need a commercial lock change to ensure your current key becomes useless and so no one will have access to your building except you. Additionally, in situations where your commercial lock has become old or rusty. You can get a commercial lock change for a reliable lock that will protect your commercial area perfectly.
Getting a Commercial lock change also involves the commercial safe locks and office storage cabinets. We'll make sure to restore the quality and reliability of all your commercial locks in your business area. From doors, cabinets, and safes to other kinds of commercial lock needs, you can always contact us at (714) 442-2458.
What Is the Appropriate Time to Call a Commercial Locksmith?
Anytime someone has a breach in his or her commercial area, they will most likely need Commercial Locksmith Services. Therefore, we operate 24 hours a day so you can contact us anytime you have a problem. Our team is always prepared to handle any and all of your commercial lock issues.
Why we stand out from the rest of the pack
In conclusion, we don't delay when it comes to fixing your commercial security issues. Our technicians respond quickly and it takes at most one hour for us to fix any commercial issue you could be having. Additionally, we use perfect diagnostic tools to identify your actual problem so that we offer typical services that will be effective in your commercial area. On top of all that, we have a 24-hour customer hotline so if you encounter any problem during our specified time, you can always call us for help right away.
Our prominent services:
Free telephone consultation
Fresh Lock Installation
Electronic Locks
Cabinet and Filing
Cabinet Locks
Exit Devices
Electronic Locks
Panic and Fire Exit Devices
Combination Locks
Door Install
Door Repair
High- Security Commercial locks
Rekeying Master system re-key