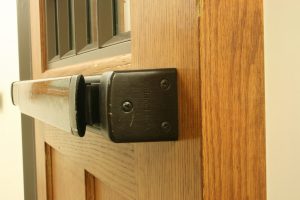 Push bars are also referred to as emergency exit devices or panic bars.  They are commonly used in office buildings and in other rooms where there is a need to have an escape route in the case of an emergency like a fire. These emergency devices are usually installed on single doors, double doors and also other points in the building.
In practice, you can add an alarm system that alerts the people working in the building that there is an emergency. That is how you ensure it is an advanced emergency exit. Additionally, there are different designs to choose from when it comes to security system installation. You can, for instance, go for the key override or the handle level emergency exit system. However, to make a proper choice, you might need to consider the following.
What is your Estimated Budget?
The amount you are planning to spend on the system should be the guiding factor. Often, you can negotiate on the features depending on where you want to install the system. Of course, the features will come at a price.
It is important to ensure that you don't first concentrate on pricing and forget about the essence of having the system. The best practice is to do window shopping first and determine the amount needed to have a system that suits your needs.
Determine the Security Level Needed
The security needs are a major factor to consider when choosing the emergency system for your building. Different features will be available on the different systems you want to install. For example, if you need an emergency system that will serve many people, you might want to go for the one that will sound an alarm to everyone in the building.
Consider Asking an Expert
We all have different skills for the jobs that we do. If you are a facility manager, you might not have the skills needed to determine the best system for emergencies. Therefore, it is important to consider contacting a knowledgeable expert on matters of emergency exit systems.
Are you looking for the best emergency exit devices on the market? Contact ABM Locksmith Orange at (714)500-7072 for the best exit devices installation for your business.